Physical Gift Cards:
The classic, plastic gift card. Shipped within 48 hours via First Class Mail in a card presenter.

E-Gift Cards:
E-gift cards are electronic gift cards sent by email. They arrive instantly. Email to your friends and family, or print them out at home.

M-Gift Cards:
M-gift cards are mobile gift cards, delivered by text message to any cell phone - instantly! Easy to use and hard to lose.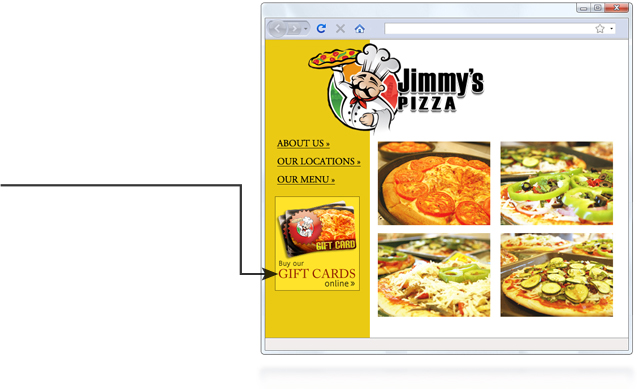 How It Works:
1. The Easy-Link
We provide you with a custom link to add to your existing website. When customers visit your page looking for gift cards, they'll know exactly where to go.
Want to sell gift cards on your company Facebook page, too? Get the LocalGiftCards.com Facebook app.
Learn more.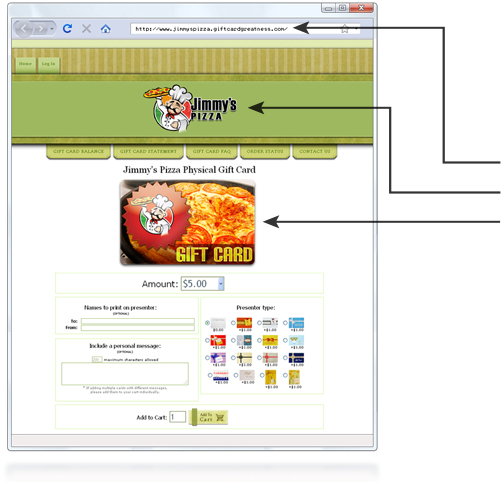 2. Customize Your gift card store
When customers click on the "Buy Gift Cards" Easy-Link, they arrive at a custom page created exclusively for your gift cards.
Your company
Your logo
Your gift card image
With over 30 templates to choose from, you decide how your page looks: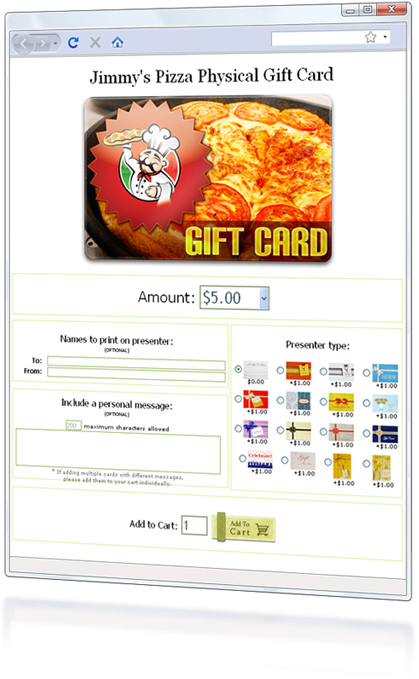 3. Choose Your product options
Offer your customers any or all of the following options:

Physical Gift Cards
Sent by First Class mail

Electronic Gift Cards
Sent instantly via email

Mobile Gift Cards
Sent instantly via text message

Recharge/Add Value to Gift Cards
With each order, customers can add a personal message to be included with their gift.
4. Sit back, relax, and sell more gift cards.
All orders are handled automatically, by us.
When a customer orders a physical gift card, we will:

Activate the gift card

Place it in a premium card presenter

Include the customer's personal message

And ship it directly to the customer
You don't have to do a thing!
LocalGiftCards.com
In the News
Conditions of Use
Privacy Notice
Gift Card FAQ
Contact Us
Merchant Area